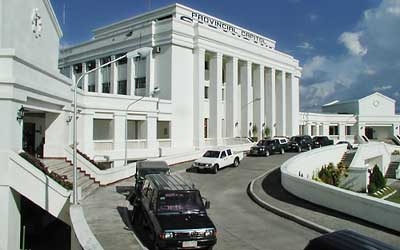 The Provincial Capitol in Alabel
Alabel
The capital of Sarangani is the commercial and services center. People from neighboring towns frequently visit the place to savor its delectable food products produced by Sarangani Aqua Resources, Inc. (SARI) and Sarangani Agricultural Company, Inc. (SACI).
The Sarangani Alson's Aqua Technologies, Inc., the province's only exporter of fresh and processed aquaculture fishery products, is also found in Alabel. It is the biggest producer of prime Bangus exported to Filipino communities in the United States, Canada, and Europe.
---
The Lubi-Lubi Festival every November 25 translates Glan's potentials for macro coco-industry and agri-eco tourism.
The oldest town in Southern and Central Mindanao.
Glan also breeds Canadian Sergeant Fish, with its fingerlings imported from Taiwan. Cultured in buoyed cages, this delicious fish is being exported to Hong Kong's finest restaurants.
---
Kiamba
Consistently awarded as Sarangani's cleanest and greenest town, Kiamba is one of the food baskets of the province. Its well-milled whole grain rice is popular all over Sarangani and even in neighboring provinces.
The place has rich natural resources that offer local residents vast opportunities for livelihood.
Agriculture, fishing, and lumber are viable business ventures, but so is tourism with its fine white beaches and diving grounds.
---
Maasim
This town is developed as a micro-industrial center for its rich deposits of marble, limestone, and other mineral rocks.
Maasim is a historical town - the burial place of an Arab missionary of long ago. Exotic coral reefs are abundant in the town's coastline, particularly in Tinoto Cove and Tampat Point. These spots are favorite destinations for divers.
---
Maitum
Maitum is a place of mystery; it is here where the archeological find, unparalleled in Southeast Asia, was unearthed.
The annual Binuyugan Festival is celebrated in May. Maitum is also a food basket famous for its rice and dried fish.
For nature lovers, Maitum offers an unspoiled rainforest.
It is known for its well-enforced solid waste disposal system, which has been sustained by its residents through the years.
---
Malapatan
The place is ideal for coco-based estate and eco-villages for its expansive coconut farms and scenic shoreline.
Coastal villages lined with fishing grounds also serve as anchorage for big fishing boats. This town is also known for shipbuilding industry.
---
Malungon
Sarangani's only landlocked town is the leader in high-value commercial crops and top producer of sugarcane in the province.
It is one of DOLE Philippines' major sources of banana and pineapple. Malungon also produces asparagus. Its 18-hole Golf Course and Country Club at Sitio Pulatana, Malandag provides fast service for visitors breaking free from the city life's drudgery.