| LOCATION | LAND AREA | LAND USE | TOPOGRAPHY | SOIL & MINERAL | CLIMATE |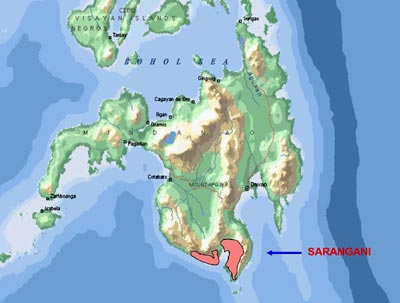 To see Sarangani in the BIMP-EAGA, please click here.
Sarangani, the Mindanao's front door to BIMP-EAGA, is the southernmost province in mainland Mindanao. It is cut midway by General Santos City, giving its two sections hammock-like shapes that hug the mountains and Sarangani Bay.
Sarangani is surrounded by the Celebes Sea, Sarangani Bay, and the provinces of South Cotabato, Sultan Kudarat and Davao del Sur.
The province is also the coastal zone of SOCSKSARGEN (South Cotabato, Sultan Kudarat, Sarangani, General Santos City), one of the country's fast growing development clusters.
It has seven municipalities (Alabel, Malapatan, Glan, Malungon, Maasim, Kiamba, and Maitum) with 140 barangays. Alabel, the provincial capital, is only 16 kilometers from General Santos City.
With the province's strategic geographical location, it has great potential of becoming an industrial zone in Region 12.
Sarangani has a total land area of 4,100.42 square kilometers. Among the municipalities comprising the province, Malungon is the biggest with 896.63 sq. km. followed by Glan. Maitum is the smallest with only 324.35 sq. km.


Part of Sarangani's vast forest lands
About 66 percent of the province's total land area is a forest land. Half of this is highly cultivated for corn. These are in Malungon, Maasim, Malapatan, and Glan.
The province has vast forest cover with 30 percent of the province's total forest lands while 37 percent is classified as alienable and disposable (A & D).
Dense forest cover is located at the western side touching South Cotabato. The widest is found in the municipality of Kiamba with 87 percent of the municipality's total forestland. Alabel is noted to have enormously denuded forestland with 32.49 sq. km. remaining forest cover.
Grassland forms 19 percent of the total forestland found in Alabel, and Maasim, mostly idled except for the latter's pastural activities.
Two percent of the total forestland figure is croplands and coco estate distributed throughout the municipalities while Glan, Maitum, and Malapatan are known for their vast coconut plantations.


Sarangani's flatlands are ideal for farming
Flatlands, rolling hills, and mountains characterized Sarangani's terrain. The coastal towns of Alabel, Glan, Maasim, Malapatan, Kiamba, and Maitum are made up of vast stretches of fertile flatlands with slope ranging from 0 to 8 percent.
Mountains and rolling hills dominate the landscape of Malungon and the eastern and southern fringes of Sarangani, which border Davao del Sur and South Cotabato.
The province's topographic characteristics are attributed to the presence of Alip Range, Daguma Range, Mt. Parker and Mt. Matutum. Mt. Busa, the highest peak located within the province has an approximate elevation of 2,083m above sea level.
Soil types of the province range from loam, sandy loam, fine sandy loam, silty clay loam, clay loam, and mountain clay soil. The province has also rich deposits of precious metallic and non-metallic minerals such as gold, copper, iron, silica, limestone, cement lime, coal, marble, gypsum, phosphate rock, sandstone, white pebbles and guano.
Northeast monsoon and southwest monsoon are the prevailing wind directions of Sarangani Province. These are respectively from the months of November to March and June to October.
There is no distinct dry and wet season in the area. Average rainfall is 28oC evenly distributed throughout the year. Thus, Sarangani is considered a typhoon belt area. Annual rainfall is 79.6mm with 78 percent relative humidity.
April is hottest month while January is coldest.