Munahto Festival 2002: Key events in capsule
Provincial Information Office / 5 December 2002

WOW Sarangani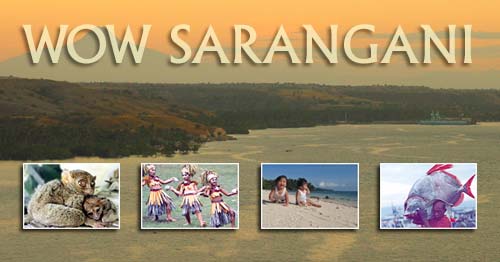 If the Department of Tourism has WOW Philippines, the province has certainly WOW Sarangani to offer the world that translates the province's "Web of Wealth. From the Mountains to the Seas…" campaign.
Tourism Officer Larry Asparin said WOW does not only depict the province's beauty and bounty as could be seen in its rich flora and fauna nor take pride in its fascinating tourist attractions but also its amazingly diverse culture it is endowed with.
Communicating the geniality of people, WOW also represents Sarangani's attitude being an ecological and child-friendly province.
Launched on November 25th as among the highlights of Sarangani's 10th Foundation Anniversary, WOW Sarangani displayed various items of antiquity that demonstrated the rich historical and cultural heritage of the Sarangans.
Like the MunahTo Fest, WOW also celebrates the dedication of people responsible behind the province's fast growth and development.
Other component activities also include the trade fair, garden show, photo contest, kite flying, art on the rocks and "naks on wood" contests.
FYU KURA
A parade of colorfully-embellished horses highlighting their multi-use to indigenous peoples in this province. It also showcased the ability of Sarangan in artistic craftsmanship.
Eleanor Saguiguit, chairperson of the Provincial Tourism Council said horses are considered most valuable assets of indigenous people being used in different activities.
The Fyu Kura, is a Blaan word which literally means "beautiful horse." The riders, mostly tribal leaders and barangay chieftains dressed in vibrant attires also exhibited their skills in horse riding.
The municipality of Malungon was named first; Alabel, second; and Malapatan, third.
SARANGANI FAUNA EXHIBIT
A showcase of Sarangani's biodiversity comprising of tarsier, gray turtle, snake-eagle and other wildlife.
The Fauna exhibit serves as the "province's mini zoo" visited by children and adults in different ages.
Aside from animals, the exhibit also showcased marine life and other interesting species.
Environment Officer Danny Sibugan had urged officials here to support more initiatives like this in the future. "With this, I am confident we could raise people's awareness."