Yes, there are tarsiers in Sarangani
By Serafin N. Ramos, Jr.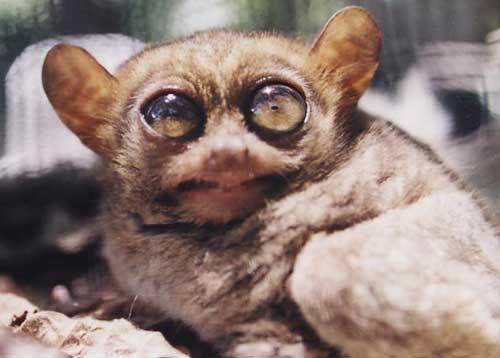 MALUNGON, Sarangani Province (special to MindaNews/4 April 2002) -- A member of the Provincial Tourism Council here had insisted that the endangered tarsiers, often associated with Bohol province, is endemic to this predominantly coastal province.
But other members merely shrugged off the claim, until March 30, when a B'laan farmer brought a pair of tarsiers to the house of the PTC chair in Barangay Malandag here.
The presence of tarsiers (tarsius syrichta) was news for officials, but not for the Lumads, who had always known that this tiny wide-eyed animal they call "mal" and which they are prohibited to catch or even touch, has been a fixture in most towns here for decades.
But B'laan Tinong Lagsila had to show proof, that, indeed, there are tarsiers in his birthplace in Purok Ariston, near the poblacion.
"Bata pa ko, kakita na ko ana kung mag-adto mi sa uma uban sa akong tatay," (I have seen them since I was small, each time I go to the farm with my father), said Lagsila, now in his 40s.
"Bantayan namo kung magsiga ilang mata kay maayo mutanom. Kung piyong ilang mata dili mi mutanom" (we watch out when their eyes open because that's a good sign for planting (crops). If their eyes are closed, we don't plant.)
"Forbidden"
Tarsiers, about four to six inches in height, are nocturnal creatures. By day, tarsiers sleep in hollows close to the ground, dense vegetation and trees, Lagsila said. His dog found the pair, a male and a female, huddled together under vegetation at 10 o'clock in the evening.
"Dili unta nako dakpon kay dili namo sila ginahilabtan. Bawal," (I would not have captured them because we are not supposed to touch them. It's not allowed), he added.
It is not certain as yet if there are, indeed, more tarsiers in Sarangani than in Bohol or if the species here is the same as Bohol's. The Department of Environment and Natural Resources (DENR) provincial office here has yet to provide this information.
Other eyewitnesses volunteered information when word broke out that tarsiers exist in Sarangani province.
Wildlife still inhabit a vast rainforest in barangay Upo, Maitum. The area, where a two-hectare Agricultural Research Center is located, is the habitat of tarsiers, according to Perido Kusin, a T'boli college graduate.
Kusin said tarsiers, also called mal in T'boli, were left untouched in the wild because they could bring bad luck. "When we were children, we were told not to look straight into the eyes of mal because we might see its tears fall and that could mean accident or even death," he said. "We were told not no take them as pets. It's forbidden."
Province-wide
Malungon is the only landlocked town in this seven-town coastal province, while Maitum is its westernmost town. The presence of tarsiers appears to be province-wide because Lumads in Glan, the last town in the east coast, also reported sightings in lowland and coastal barangays.
Residents in barangay Laguimit near Mt. Gulo, the highest peak in Glan, confirmed that mal still live in the nearby jungle when shown pictures of the Malungon tarsiers.
"Niadtong 1970's, katong wala pa kaayo na-clear ang area dinhi, adunay mga mal nga makit-an dinhi pero hinay-hinay na sila ug pamalhin sa Gulo katong nidaghan na ang namuyo nganhi," (In the 1970s, when the area was not yet cleared [for housing and farming], we would see tarsiers here but they slowly moved up to Gulo when more people came to settle here) said Jovencio Bag, a former barangay captain. Mt. Gulo is about seven kilometers from the barangay proper.
Barangay captain Ricardo Roque, Jr. said tarsiers are endemic to Mt. Gulo. Roque said he had a captive female and a young which died recently. "Murag nakaka-on ug asin. Among gipa-anod sa sapa." (They apparently ate salt. We had them float down the river).
Accounts of tarsier encounters also came from barangays Alegado, Margus, Kaltuad, Congan, Lago and Tango in Glan; Malabod and Buayan Riverside in Malungon; Bagacay and Paraiso in Alabel; Sapu Masla in Malapatan; Lumoyon in Kiamba, and Barangay Upo in Maitum, some 20 minutes from the poblacion; and in Maasim town.
Indigenous beliefs, along with relatively thick forestal areas in this province facing the Celebes Sea, have apparently led to the preservation of the endangered species here.
But Governor Miguel Escobar said he would push for local legislation to declare the known tarsier habitats in the province as protected areas.
Large eyes
Tarsiers have large, goggling eyes and a round head that can be rotated 180 degrees. The ears are large, membranous, and almost constantly in motion. Tarsiers are 4-6 in. long; the thin tufted tail about twice that length serves as a balancer and prop. The gray to dark brown fur is thick and silky. Tarsiers cling vertically to trees and leap from trunk to trunk. They have greatly elongated hind limbs and disklike adhesive pads on the digit tips. Tarsiers prey mainly on insects, according to The Britannica Concise.
Sometimes called the world's smallest monkey, it is neither a monkey or even the smallest primate. Being a primate, it is part of the group of mammals that includes lemurs, monkeys, gorillas and man. Scientists say the tarsier falls somewhere between the lemurs and monkeys on the evolutionary scale.
Tarsius syrichta is found in the rainforests of the East Indies, from Sumatra to the Philippines and Sulawesi. This species is most commonly found on Samar, Leyte, Bohol, and Mindanao.
The Philippine tarsier is found in areas of tall grasses, bushes, bamboo shoots, and small trees in tropical rainforests. They enjoy the canopy of the jungle, leaping from tree to tree.
National concern
On June 23, 1997, President Fidel V. Ramos issued Proclamation No. 1030, declaring the Philippine tarsier "a specially protected faunal species of the Philippines."
"The preservation of the Philippine tarsier is a matter of national concern since it forms part of the Philippine heritage," the Proclamation read.
The Proclamation said the Philippine tarsier is "vanishing due to unabated destructive activities within its known habitats" and declared that "hunting, killing, wounding, taking away, possession of the Philippine tarsier and the conduct of activites destructive of its habitats" are prohibited. But the possession of the Philippine Tarsier for educational, scientific or conservation-centered research purposes "maybe allowed upon certification by the DENR Secretary."
Atty. Antonio Delena, Provincial Legal Officer, said a provincial ordinance could be passed prohibiting the exploitation and capture of the endangered species and their habitat should be protected also. He said the ordinance could be adopted by the municipalities and barangays so that "people will be aware of the importance and will be appreciative that this specie exists in the province."
Penalty Clause
Delena suggests that barangays should get involved "for they are the ones who have discovered this (except that) they don't know the importance or value of this species. So if this can be tackled/discussed in the (ABC) Association of Barangay Captains meeting and photos of the tarsiers can be shown, we could identify easily the barangays in the province where this species exists. We will also know the nature of its habitat if denuded, it can be reforested based on a resolution."
Delena said there is "a need for every municipality to pass an ordinance for the protection and preservation of tarsier with penalty clause."
"This means that once the capture of this species is not in accordance with the study, conservation, protection of tarsier but for mere exploitation like out of pleasure-trip, then the ordinance must have sanctions either fine and imprisonment or both at the discretion of the court."
"This is not only to regulate but also to make them feel once there is a case filed that capturing this specie for pleasure-trip is not good," he said.
Delena added that tarsier habitats must be declared by DENR as protected areas and local government units "must also enact a measure to protect the area since the Proclamation is too general."
[Serafin Ramos, Jr. is provincial information officer of Sarangani]