Sarangani tarsiers different subspecies from Bohol's
Carolyn O. Arguillas / MindaNews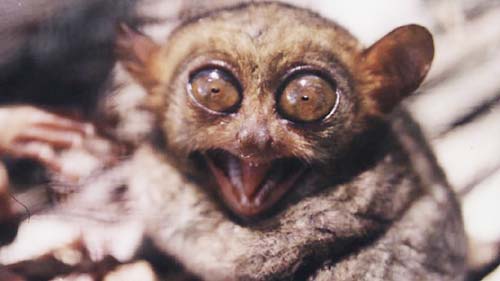 DAVAO CITY (MindaNews/10 April 2002) -- The tarsiers of Sarangani belong to a subspecies of Philippine tarsiers different from Bohol's.
Though the Philippine tarsier (Tarsius syrichta) is an understudied creature compared with other tarsier species in Southeast Asia, three subspecies are presently recognized: T.s syrichta from Leyte and Samar, T. s. fraterculus from Bohol and T.s. carbonarius from Mindanao.
"This perspective may change as scientists are beginning to study the variation found in tarsiers throughout the Philippines," said Sharon Gursky, an expert on tarsiers and an assistant professor of Anthropology at the Texas A&M University.
MindaNews e-mailed the Philippine Tarsier Foundation in Bohol for answers and attached photographs of the Sarangani tarsiers, but the Foundation has yet to reply.
In her answers to MindaNews' queries by e-mail, Gursky, who was also sent photographs of the Sarangani tarsiers, said that while she is an expert on tarsiers, her work is focused on Sulawesian tarsier species Tarsius .
Extensive studies have been made on the Sulawesian tarsiers' morphology, range, ecology, locomotion, social behavior, vocal communication, olfactory communication, visual communication, tactile communication, and reproduction, among others.
Gursky said it is "difficult to say with certainty" if the tarsiers in Bohol and the tarsiers in Mindanao are the same or different.
"Whether the differences represent specific level differences (different species) or subspecific differences (subspecies) is based on numerous biological factors such as whether the tarsiers from Bohol and Mindanao can reproduce together, whether they respond to each other's vocalizations, chromosomal numbers, etc." she said.
On what to do with the tarsiers captured in Sarangani, Gursky said "they should be returned to as close to where they were captured as possible."
Gursky said Mindanao tarsiers should not be released in Bohol because "we do know that they are different subspecies and therefore should not be mixed."
Gursky said another reason why the tarsiers in Sarangani should be released is because "tarsiers are very difficult to maintain in captivity."
Gursky said that 20 years ago, "Pat Wright brought 20 tarsiers back to the USA from the Philippines and Malaysia to be housed at the National Zoo and the Duke University Primate Center. They have all since died. We have had no success maintaining captive tarsiers."
Marian Dagosto of the Department of Cell and Molecular Biology at the Northwestern University in Chicago, who studied the tarsiers on Leyte in 1997 and 1998, said tarsiers "are known from many places in the Southern Philippines, including Bohol, Leyte, Samar, and Mindanao (from many localities), and from some smaller surrounding islands like Basilan and Dinagat."
Dagosto told MindaNews in another e-mailed message, that there is "a large collection from Davao del Sur, made in the 1950's, in the Philippine National Museum and other museum specimens from Maguindanao, Surigao, and Zamboanga. But I don't know of any previous specimens from Sarangani province."
Dagosto said the pictures of the Sarangani tarsiers which was sent to him, "appear to be similar to other Mindanao tarsiers, but external characters are not always the most useful for these animals."
"It is still an open question, and in fact, the focus of my current research, how many species or subspecies of tarsiers live in the Philippines. The currently accepted taxonomy is that there is only one species, with three subspecies: T. syrichta syrichta, from Leyte and Samar; T. s. fraterculus (Miller, 1911) from Bohol; and T. s. carbonarius (Heude, 1898) from Mindanao."
Dagosto said a specimen from Dinagat (Surigao del Norte), "is larger than other Philippine tarsiers and may also be taxonomically distinct (Heaney and Rabor, 1982). On the other hand, the morphological grounds originally given for recognition of these subspecies are rather unconvincing and both Hill (1953a, 1955) and Niemitz (1984a) doubt the existence of identifiable subspecies. There is as yet no genetic data with which to evaluate the status of the proposed subspecies."
In a separate e-mail, Myron Shekelle, Research Associate at the Center for Biodiversity Studies and Conservation, Faculty of Mathematics and Science at the University of Indonesia, told MindaNews that "the type locality of Tarsius syrichta is the island of Samar."
Shekelle said tarsiers "are also known from several other islands in the southern parts of the Philippines including Leyte, Bohol, Mindanao, Siargao, Dinagat, Basilan, and probably dozens or even hundreds of other smaller islands."
"All of these islands are believed to have formed a single landmass during the ice ages and scientists sometimes refer to this landmass as 'greater Mindanao'," Shekelle said.
Shekelle added that the taxonomy of Philippine tarsiers is not well understood, "partly because the past two decades have taught us that acoustic and genetic data are often crucial for the taxonomy of nocturnal primates, such as tarsiers, and there are almost no such data at all for Philippine tarsiers."
The Bohol tarsiers, Shekelle said, "are a questionably justifiable subspecies known as T. syrichta fraterculus."
"Few taxonomists accept the Bohol tarsier as a distinct subspecies, but, who knows? There really aren't any data at all worth mentioning. The same is true for the Mindanao tarsier. Few taxonomists accept that it is a distinct subspecies, but if it were, it's name would be T. syrichta carbonarius."
Shekelle said the Mindanao tarsier "gets its name because of the false folk belief that tarsiers eat charcoal from leftover campfires."
"Make sure that the tarsiers are being fed grasshoppers, crickets, house geckos, and other live caught animal prey," Shekelle said.
"Everywhere I go, the folk wisdom of the tarsier diet is very far from accurate," Shekelle said. "Don't even bother trying to feed tarsiers fruit, leaves, rice, or anything other than food such as I mentioned.
Shekelle does not condone amateurs catching tarsiers and keeping them as pets, "but I see this from time-to-time in my work."
"My conservation philosophy is that the whole battle will be won or lost through 'hearts and minds,' not through enforcement -- this is particularly true in the countryside as opposed to the city-- therefore, when i meet someone with a captive tarsier, I engage him in a discussion of tarsier diet, behavior, and the tarsier's role in the local ecosystem, and then hope that the person will have sense enough to let the tarsier go. I then include these encounters in my regular reports to the Indonesian authorities," Shekelle said. (Carolyn O. Arguillas/MindaNews)