Tarsier born in captivity in Sarangani
by Rex G. Ortega/MindaNews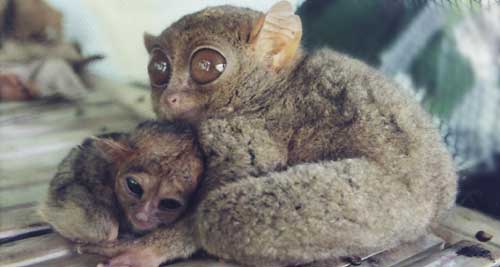 MALUNGON, Sarangani (MindaNews/6 April 2002) -- Guillermo "Jun" Constantino caught two tarsiers and displayed them to provincial government and tourism officials and selected journalists at his garden home with only one goal in mind: to prove that the endangered tarsiers exist in this part of the country.
To his pleasant surprise, the female tarsier took over his "show" by adding one more cuddly tarsier for the whole world to see.
In what must be an historic event, a baby tarsier was born in captivity at 6 a.m. today (Saturday), stunning Constantino and the animals' caretakers.
The Philippine Tarsier (Tarsius syrichta) was declared on June 23, 1997 as a "specifically protected faunal species of the Philippines" under then President Fidel Ramos' Proclamation 1030.
The Proclamation prohibits the hunting, killing, wounding, taking away and possession of tarsiers and the conduct of activities destructive of its habitats, except for "educational, scientific, or conservation-centered research purposes" upon certification by the Environment Secretary.
The birth of the baby Tarsier came exactly a week after Constantino placed the two nocturnal creatures (head and body length around 4 to 5 inches, their tails about twice longer) inside a 1.5 foot by 2.5 foot wood and bamboo cage covered by black nylon net.
The head and body of the baby tarsier, whom Constantino named Tarsius Rex, measured about 2.5 inches, its tail around 3.5 inches long.
It came out pretty fast with the mother tarsier delivering it in a squatting position. Caretaker Dondon Rolion, who witnessed the birth in its entirety, said the actual delivery took only around three seconds.
Rolion said the mother tarsier underwent around 30 minutes of labor starting at 5:30 this morning (Saturday morning) when it kept crying and making shrieking noises that sounded like "those of a rat's."
The mother licked the baby thoroughly and at times dunked her head into the water container and then continued cleaning her young as if she was washing it, Rolion said.
This supports observations made by B'laans here that tarsiers almost always could be found near a water source.
Constantino and Rolion said the other smaller tarsier inside the cage assisted in the birth by massaging the mother's belly from behind to seemingly push the baby out.
The baby clung to its mother whenever it moved around the cage.
A couple of hours after the birth, the mother settled down on the floor of the cage and just held her baby in a protective embrace.
One could almost hear her singing a lullaby to her bundle of joy for it to sleep. It was already 10 in the morning.
It is not certain as yet if the Tarsiers found in Sarangani are of the same species as Bohol's Tarsius syrichta, a subspecies of it, or of another species found in Sulawesi, Indonesia.
There are four known Tarsius species: Tarsius pumilus found in central Sulawesi, Indonesia; Tarsius bancanus, found in southern Sumatra and the nearby islands of Bangka and Belitung, Borneo and the nearby Karimataand Serasan Islands; Tarsius spectrum found in Sulawesi and the nearby islands of Sangir, Peleng, and Selajar; and Tarsius Syrichta or the Philippine Tarsier found in the islands of Samar, Leyte, Bohol in the Visayas and Dinagat, Basilan, Siargao in Mindanao.
Tarsiers are more popularly thought of as existing only in Bohol. In fact, some brochures claim Philippine tarsiers are found only in Bohol.
But no reports of sighting had been recorded in Mindanao in years until early this week when the Sarangani Provincial Information office announced that tarsiers exist in all seven towns of this predominantly coastal province facing the Celebes Sea.
It was news to Sarangani officials but not to Lumads such as the B'laans and T'bolis, who said they have long known that tarsiers, called "mal" in their language, exist in the province. (Rex G. Ortega/MindaNews)