Sarangani tarsiers: A friend for the mom, a playmate for Tarsius Rex
By Rex G. Ortega / MindaNews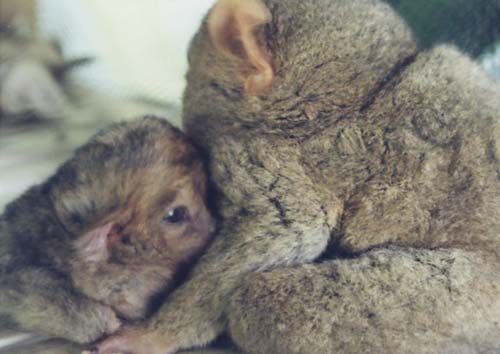 MALUNGON, Sarangani (MindaNews/8 April 2002) -- It was very much like finding a friend for a mother tarsier and a playmate for her baby.
Roughly 10 hours after one of the two captive tarsiers sprung a surprise on everyone by giving birth on Saturday morning, a mother and baby tarsier were caught later that evening, bringing to five the number of tarsiers temporarily kept in captivity here.
This, as horticulturist Guillermo Constantino, in whose property the new arrivals were captured, issued a call to have his area declared a sanctuary for these strange-looking nocturnal creatures.
The new arrivals were introduced into the same cage which serves as the temporary home of three other tarsiers, one of which, Tarsius Rex, was born in the morning of that very same Saturday.
Constantino named the new baby, Miggi, after Governor Miguel Escobar.
Caretaker Dondon Rolio caught Miggi at around 4 p.m. and the mother at around 7 p.m. near a bamboo grove a few meters away from Constantino's house.
The head and body length of Miggi's mother was estimated at 4 inches, its tail around twice that long. Miggi, believed to be just a few days old, measured around 2.6 inches with a tail of approximately 3.7 inches.
Miggi and his mother joined Rex and his mother, plus another juvenile tarsier in a 1.5 x 2.5 x 2 foot bamboo cage covered with black nylon net and leaves.
Constantino said the behavior of the tarsiers when they were put together was very interesting.
He said he was amazed at how the maternal instincts were very strong in these tiny creatures who are thought to be the next smallest primates in the world.
Constantino said Rex's mother immediately took Miggi into her care the moment the young newcomer was introduced into the cage. She would even drop Rex at times just to devote her full attention to Miggi who was bigger and obviously a few days older than her very own baby.
"It looks a lot like she was comforting Miggi," Constantino said.
Miggi's mother was clearly stressed from being separated from her baby for at least three hours and just spent most of her time hiding, forgetting her own baby.
Rolio, who caught Miggi and its mother in an ingenious way, said the latter seemed contented to leave Miggi at the care of Rex's mother who appeared to have more authority over it.
It could not be ascertained which of the two mothers was older. The sex of Miggi, Rex and the other adult tarsier in the cage could not be determined either.
Constantino expressed the need to have scientists or tarsier experts study his "guests." He said he wants to free the tarsiers soon but would first seek the advice of the Department of Environment and Natural Resources if he should release all or keep some for scientists to study.
Constantino, a member of the Provincial Tourism Council and the younger brother of Vice Governor Felipe Constantino, originally had a pair caught just to prove to Sarangani officials that tarsiers exist here.
The revelation shocked not only the officials but the rest of the population as well including those from the neighboring provinces who thought tarsiers only existed in Bohol.
Constantino explained the ignorance by saying that only Lumads, like the B'laans and T'bolis, know the creatures whom they call "Mal," exist. They believe tarsiers bring bad luck.
The International Union for the Conservation of Nature and Natural Resources (IUCN) classifies the Philippine Tarsier (Tarsius syrichta) as endangered though the USDI classifies it as threatened. Tarsiers are jeopardized by destruction of forest habitat and capture by people.
Proclamation 1030, issued by then President Fidel Ramos on June 23, 1997, declared the Philippine tarsier as a "specially protected faunal species of the Philippines" and said its preservation is a matter of national concern since it forms part of the Philippine heritage."
The Proclamation also prohibits the "hunting, killing, wounding, taking away, possession of the Philippine tarsier and the conduct of activities destructive of its habitats" except for "educational, scientific or conservation-centered research purposes" upon certification by the Environment secretary.
Constantino, the provincial administrator, information officer, environmental officer, tourism and agricultural officers will meet tomorrow (Tuesday) to discuss what to do with the tarsiers who have been discovered to exist in all the seven towns of Sarangani.
A tarsier sanctuary just like the one in Bohol is being thought of by some. (Rex G. Ortega/MindaNews)